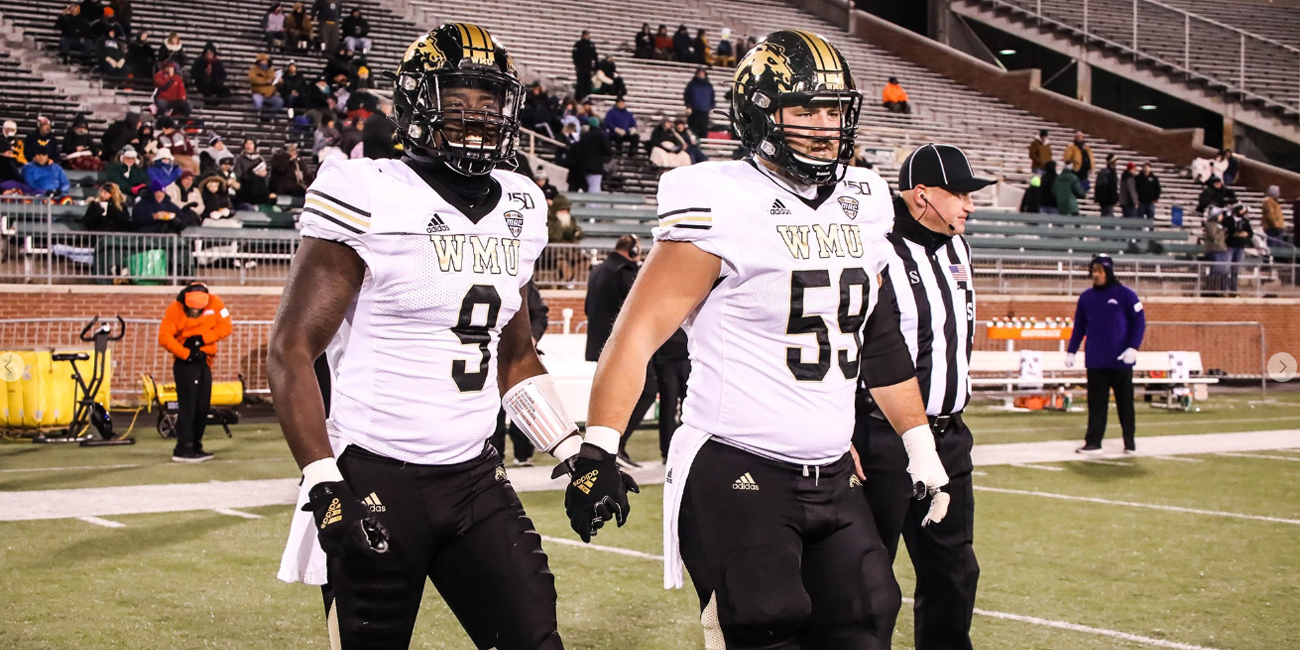 Oct. 28, 2020
Jason Welser
As the sports world continues to be rocked by cancelations, postponements, and makeshift seasons, our Broncos have by no means been immune to the stress of covid-19. As we all know, for over a month there was to be no season at all. The decision was a bit shocking, a bit curious to many, and more than a bit deflating to the team and its fans. We need to count our blessings that the MAC is even playing games this season.
But kicking off the season in November just feels odd does it not? No labor day weekend kickoff. No warm weather tailgate. No dreaming of upsetting one of the power-5 opponents on our schedule. No planning of central-western or homecoming weekends.
The motivation to be excited about the start of the 2020 WMU season might not be as easy as most years, but there are reasons to be excited. Reasons that fans should embrace.
Once things get underway I think MAC football fans will come to welcome this season for what it is. One with as much potential as any for crazy, high scoring games on ESPN. Last minute, game winning drives are sure to still be there. Future NFL players making big plays will still happen. What about those fun, foggy, snowy, and windy Wednesday night games that only a few fans usually are daring enough to endure in-person? Check! Fans discussing those tricky tie-breaker scenarios of how to get into the MAC Title game will still be all over online forums. College seniors playing their last games in a year that could have been so much more will make for emotional scenes.
Let's not forget about that exciting talent that will be on display for our Broncos. Reigning Mac Defensive Player of the Year Tre Hayward tops the list. Veteran AJ Thomas moves down to linebacker from safety this season. With the return of thumper Covin Moment, who sat out 2019 due to academic issues, expect the LB corp to be the leagues best.
The same can be said for our receiving unit. With Dee Eskridge back in the picture as a full-time receiver (instead of playing primarily as a cornerback like last season before his injury), first-team all-mac mac performer Sky Moore, and a host over other talented receivers including Jaylen Hall and and Dashon Bussell, Sophomore QB Kaleb Eleby with have plenty of dangerous weapons to choose from.
Yes, Eleby is somehow only a Sophomore, and he seems to have the talent to be special. How much he has developed since being forced into action as a true freshman two seasons ago may be the deciding factor of how much noise this bronco team can make. Gone is talented leader Jon Wassink, but Elby's ceiling is higher. A veteran offensive line to protect him and open up holes for Sean Tyler rounds out what could be a prolific offense.
For those who want it to, MACtion is about to take them by storm. I except the Broncos to be right in the thick of it with the returning talent they have. A trip to Ford Field will be no-less satisfying to the teams that represent their divisions this year. The conference schedule was shortened by only two non-division games. So, the champion should not have an asterisk next to it. Heck, with everything these players have went through this year, it might even mean more to be crowned champions this season than a typical year. It also would to many fans who I have talked to. 2020 has taught us all to appreciate things a little differently. An uplifting championship season for the team that we love would go a long way in alleviating some of forgettable feelings these times have inflicted.
It all starts Wednesday night at 6 p.m. vs Akron!