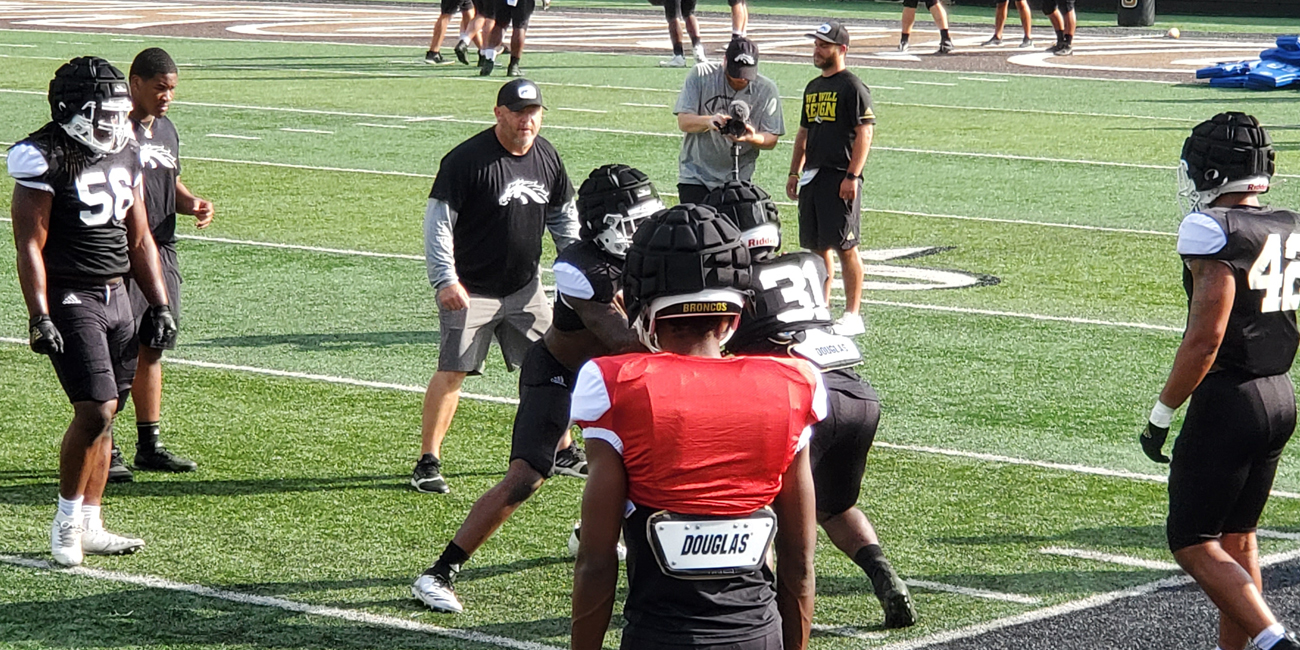 By Jason Welser
The MAC has had some great receivers over the years (see Randy Moss and Antonio Brown). Most fans are familiar with Bill Belichick favorite Julian Edelman. Kenny Golliday has been a household name for Lions fans. The Steeler's Diontae Johnson saved more than a few fantasy teams last year. They have all been fun to watch close up at Waldo Stadium during their collegiate careers. One MAC school, however, stands alone over the past 20 plus seasons as the one who has produced the most receiving talent.
Western Michigan could be nick-named wide-reciever University. Unless your name is OJ Simpson, it would fit like a glove. If there is one thing that Bronco football fans have always had something to hang their hat on over the past two decades or so, it's having the best or one of the best recievers in the Mid-American Conference to cheer for.
Even before Kalamazoo native Greg Jennings stayed home and broke records,  there has been a steady stream of prolific receivers entertaining Broncos fans. Below is a reminder for anyone who has forgotten.
Steve Neal graduated in 2000 as the school's all time leader in receiving yards and helped the Broncos to back-to‐back Mac Championship games.
Greg Jennings  (2002-2005) was only the 11th players in college football history to ever surpass 1,000 yards 3 years in a row. He was the MAC Offensive player of the year in 2005 and went on to have a nice NFL career.
Jamarko Simmons stepped up as the next star wideout. He actually broke Jenning's all-time receptions record and was a back-to-back first team All-Mac selection. He had some back luck with injuries in a couple NFL camps trying to make a roster, but played profesionally in the arena league for several years.
Jordan White took over where Simmons left off, setting wmu records in career yardage and receptions, as well as TDs in a single season.  In 2011 he lead the NCAA in both receptions and yardage and was a semi-finalist for the nation's top reciever award. He was drafted by the Jets, broke his foot in training camp, and was released a year later.
Jamie Wilson filled the gap for one season as MAC freshman of the year in 2012 before transferring.
Cory Davis then stepped in and did his thing for 4 years. He broke most wmu records and became college football's all-time leader in career yardage before being drafted #5 overall in 2017.
Dee Eskrige was a stud ever since Davis left. I wish we could have seen his numbers last year with a full season. He was like watching a video game set on easy-mode at times, out running MAC defenses to first-team honors and Mac Special Teams Player of the Year (should have been player of the year). You will hear his name plenty this year with the Seahawks.
Let's not forget about guys like Kendrick Mosley, Daniel Braverman, and Juan Nunez who were All-Mac performers and had stints in professional football. Jaylen Reed was very good for a year before leaving to play for the Spartans. Although he was a receiving TE, former Detroit Lion Tony Scheffler should be mentioned as well.
So all this begs the question of who will be the next star receiver for our Broncos. I think that the answer is that we have two players who will both become stars this season, as they take on a bigger share of targets that are up for grabs with the departure of Eskridge.
Jaylen Hall and Sky Moore both have star potential beeming from them. They each have multiple years of eligibility left to keep getting better, and they will have a NFL prospect QB tossing them the ball.
Their names are already known around Kalamazoo and in MAC circles. Since covid has caused two years to seem like five for many, some fans may forget that  Sky Moore was 1st team All-MAC as a freshman in 2019 when Eskridge was hurt most of the year and playing around with being a cornerback. Last year he was good, but took a back seat to Eskridge in targets. He was also dealing with an injury that held him back some. He is a preseason first team All-MAC pick by Athlon Sports and second team by Phil Steele. He should return to what he did as a freshman. With three years of eligibility left, the acaloids should pile up for Sky. It was hard not to write the Sky is the limit.
Then, there is Jaylen Hall. It is actually him, rather than Sky Moore, who I personally believe will turn into the Broncos most dangerous downfeild threat, as well as a prospect to be drafted in to NFL. At 6'4 he has prototypical NFL size, the speed and quickness to separate, and the body control and hands to make the difficult catch in traffic. Coach Lester has in the past said that if Hall had more weight on him coming out of high school he would have been so highly coveted that WMU may have missed out on him.
Fast forward a few years latter and Hall has put on 40lbs of mostly mustle without comprising his speed. Most Big Ten teams would love to have him on their rosters. Phil Steele has him pre-season 3rd team MAC. Don't be surprised if he surpasses those expectations and becomes a conference player of the year candidate heading into 2022.
It is anyone's best guess what this team's record will be with a schedule that is as difficult as I remember a Bronco team ever having. However there are two things that will be for certian. First, with arguably the best offensive line in the MAC on paper and one of the league's best QBs, the 2021 version of the Broncos offense will be fun to watch. Second, the receiver position by itself will be once again be worth the price of admission.