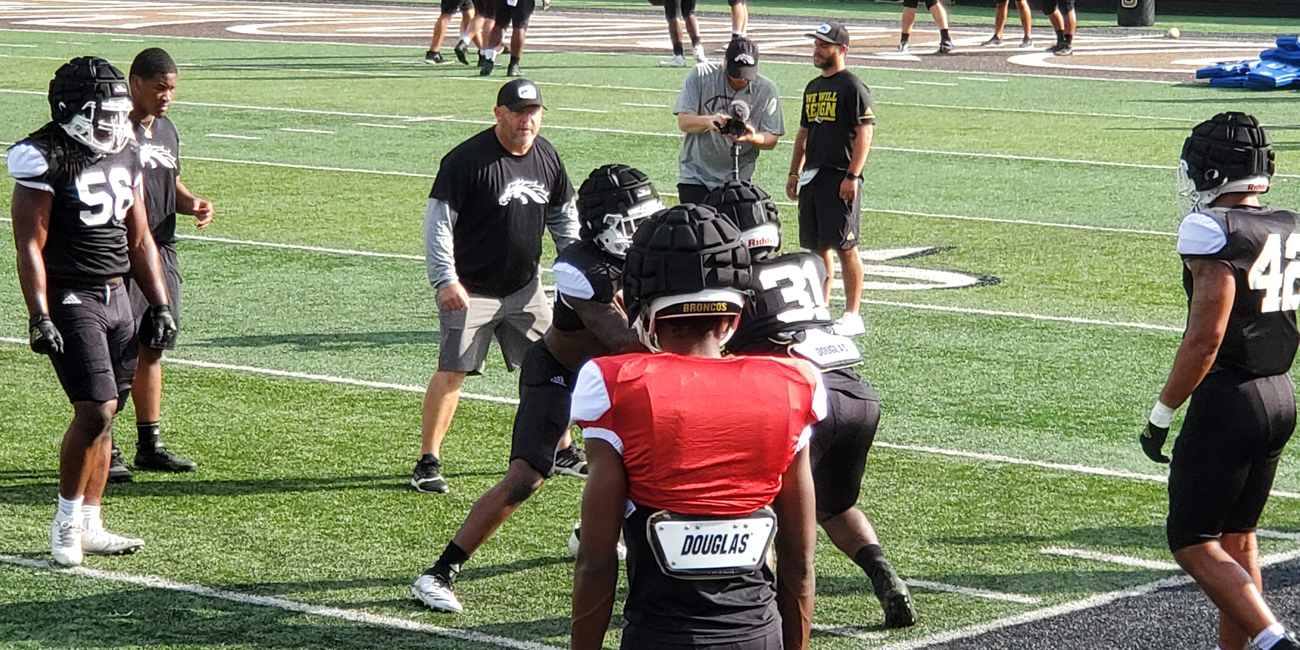 By Jason Welser
As players battle the high temperatures during summer training camp, battles for key spots in the starting lineup have also been hot.
There has been competition at every position group, but proven players from last year return at positions of LB, safety, RB, and DL. Jack Salopek seems to have a firm grasp on the starting QB job. Elsewhere, it will be more interesting to see who has separated themselves and gets the nod for the most playing time this Friday night.
 2021 starting corner Terran Coleman is gone.  Dorian Jackson, who started opposite Coleman, is back. Deshon Bussel, who earned a starting spot over Jackson last year before being lost for the season, returns healthy. He and Anthony Romphf (transfer from Purdue) are competing with Keni-H Lovely for the other spot.
Lovely has been making big plays all camp and is impressing coaches. When wmufootball.com asked him about the big plays this summer, his enthusiastic smile told it all. Quick and athletic, but always undersized for regular playing time, now 4 years into the program it seems like he has arrived. Coach Lester boasted, "We've been trying since the moment he stepped foot on campus to get him up to 180lbs….we have him over 175 now".  All 4 cornerbacks are showing starting capability and all 4 will play a role.  The position should be as deep as it has been in years.
Gone to the KC Chiefs is Sky Moore. Gone via transfer is Jaylen Hall. Starting TE Brett Borske graduated. As did key reserve WR Bruce Nunnelly. That leaves only one Broncos pass catcher who has ever caught a collegiate pass in a game- Cory Crooms. Crooms was really good last year and should be our go-to receiver in 2022, but who will fill the massive voids left by Moore and Hall? This has been a very concerning question this off-season. It seems like not only is the question being answered, but the quality of talent may really surprise some people.
The first team TE spot seems to be being filled by transfer Austin Hence, who's father is in the Western Michigan Football Hall of Fame. He is an athletic, receiving TE the likes of which we haven't had in several years.  Lester is excited to have him. "It does change your offense. There is a lot you can do when you have a Tight End like that."
As promising as a few young Bronco receivers are, they have no game experience, and coach Lester knew that he had to bring in some outside help via the transfer portal. He did so with  AJ Abbott from Wisconsin and Jehani Galloway from Boston College.
Abbott, who was one of the fastest players on the Badgers team last year, has missed some time this summer camp with a mild injury. Nonetheless he has looked good when available and figures to help stretch the field for our offensive with his speed. Galloway played sparingly for Boston College over the past couple of seasons, but does everything well and has the ability to really excel in the Broncos system. The other names to mention are in-house recruits Kaveion Mack and Anthony Sambucci. They have both  impressed teammates and coaches alike. All four of these players will see the field this season and it will be fun to watch who nails down the other two starting spots. The great thing is that the position has gone from a potential spot of weakness to again an area of strength.
The defensive and offensive lines each lose a couple big names, but thankfully they have been filled with talented players with game experience, and I don't feel there will be a big drop-off in either group.
Things are coming together nicely and the WMU coaches have only a few days left to put the final prices together for the September 2nd kickoff against MSU.