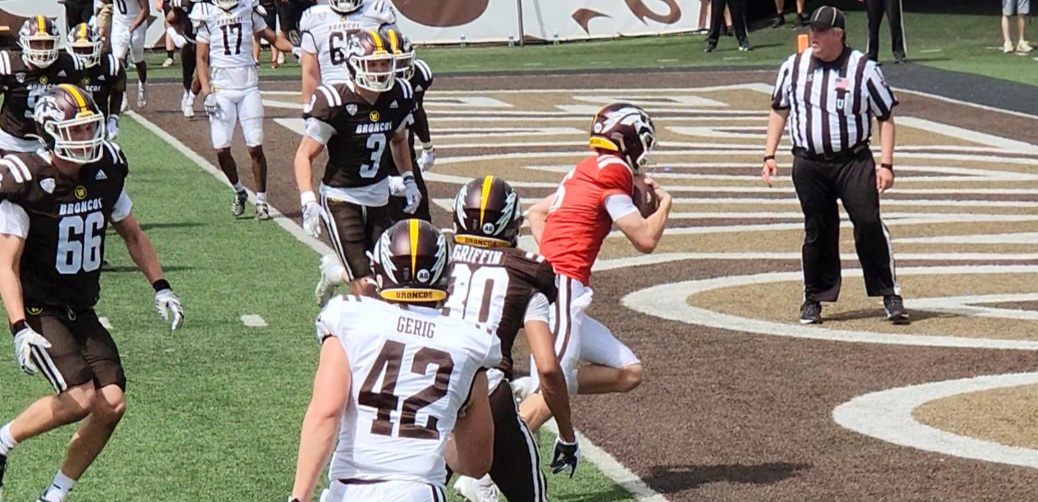 The sun was beaming, and instead of the smell of spring in the air this past April, it felt like a warm summer day at Waldo Stadium.
Coming out of a cold Michigan winter, freshman QB Treyson Bourguet was loving the heat. "I'm a desert guy, but that game was crazy", Bourguet reminisced before the Broncos Spring Showcase scrimmage. He is still currently in a heated battle to be the starting QB for the Broncos. Yes, two days before the season opener.  The game that he was referencing was an instant classic for Bronco fans. Bourguet led the Broncos to win over arch-rival CMU in the now infamous "snow game" last season. It is a game like that, a game that will go down in history of being one of the most memorable WMU/CMU games ever, that makes every season worth watching. The Broncos did not have a banner season last year, finishing 5-7 and greatly underwhelming offensively. However, observing "Maction" like that is worth the opportunity cost of giving up a few hours on a Wednesday night. Last year's defense was also worth the price admission. They were the best in the MAC and fun to watch.
Marshawn Kneeland, who originally entered the transfer portal and committed to Deon Sanders and Colorado U, is one of the few returning defenders from that squad after several graduations and transfers. He was photographed in Buffalo gear and spoke highly about the program and the beauty of Colorado. However, he decided to return to Kalamazoo for his Jr. season. He is now the primary veteran presence and leader on the defensive side of the ball. He has shinned since spring and should be a joy to watch in opponent's backfields this fall.
The bigger question mark is who on defense will join he and corner Keni-H Lovely in becoming the next play makers on that side of the ball. Dashon Bussell is trying to salvage an injury ridded career and lock down the other corner spot. He was a prized recruit who was primed for a breakout year last season before it ended the 2nd game into it. We lost several star defenders to Power 5 schools, but got a few back from the portal too. Michigan State transfer Taye Hallock is a veteran safety with Big Ten experience. Donald Willis is a LB transfer from Minnesota. Jacob Wahlberg comes over from Purdue after turning down offers from several Power 5 programs including Michigan State. All three will be vital in trying to keep a large drop-off in Defensive production from taking place. Offensively, RB Sean Tyler left to be PJ Fleck's new game breaking ball carrier. Incoming Virginia Tech transfer Keshawn King does look explosive in his own way, and if the offense line can open up some holes for him, he should be able to emerge as one of the better backs in the MAC.
Don't be surprised if this Bronco team exceeds expectations, which are admittedly low. The new Air Raid offense will need receivers and QBs to be better than last year if any success is to be had. Both young QBs from last season are back with more experience and a desire to put the failures of last year behind them. Treyson Bourget and Jack Salopek have looked improved and competing for the starting QB with transfer Hayden Wolff. Wolff has the most experience and prior success out of the three, throwing for about 5,500 yards and 30 touchdowns over 3 seasons. The fact that a clear choice for the job hasn't emerged indicates the improvement of the other two, because Wolff was pretty good for Old Dominion. Watching how and if all three are used this year will be interesting.
Both the running game and the passing game rely on the play of the OL, and last year it was not good. Center Jacob Gideon returns from injury to lead the unit, and he is the latest of an impressive recent history of star WMU centers. Gideon is considered an NFL prospect. The Broncos also return a ton of experience at the other positions on the line and have brought in a couple transfers who are challenging to take over starting positions.
The Broncos take on an opponent TH that they should be able to handle before a brutal next 5 that include 3 power 5 squads and MAC favorite Toledo. Come out to Waldo TH for the opener to get a glimpse of the new offense, some budding stars, and maybe cup of Two Hearted IPA. Waldo is selling alcohol for the first time ever, and rumor has it that suds from Kalamazoo's own Bells Brewery will be featured.
The 77 and sunny weather forecast sounds perfect for a beer and a Broncos victory. See you all there!
Jason Welser